Wir sind überglücklich Euch heute mitteilen zu können, dass sich unsere liebe Freundin, Lea Kratzer, wieder für unseren Big Brownie als Papa für ihren E- Wurf entschieden hat !!!
Udako Amarula ist nicht nur eine wahnsinngig hübsche, sondern auch charakterlich tolle Hündin. Durch diese Verpaarung führen wir alte afrikanische Linien, wie Pronkberg und Glenaholm zusammen, sie haben maßgeblich die Zucht des Rhodesian Ridgeback beeinflusst.
Wir wünschen uns gesunde, knochenstarke und aufgeweckte Welpen aus dieser wundervollen Verpaarung und hoffen darauf, dass Ihr uns hierzu alle Däumchen drückt 😘!!!
We proudly present our next mating with CH Udako Amarula. Our beloved friend, Lea Kratzer, has chosen again our Big Brownie as daddy for her E- litter.
Amarula is a fantastic female, as well she has a brilliant character. With this combination, we peform again old african bloodlines, like Pronkberg and Glenaholm together.
Please cross all fingers for this wonderful mating 😘!!!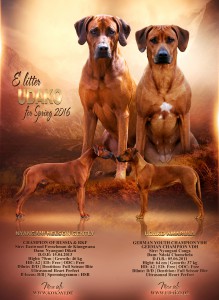 For more informations visit  www.udako.de
http://www.kokayi.de/wp-content/uploads/2015/04/logo_trans_kl.png
0
0
Silke
http://www.kokayi.de/wp-content/uploads/2015/04/logo_trans_kl.png
Silke
2016-01-29 09:06:48
2016-03-22 19:36:58
Wurfplanung Udako/ Litter Plan Udako ❤️❤️❤️